Medicare is a federal program that provides health insurance for seniors, the disabled and people of low-income.
Medicare insurance is available for people 65 and over and people under the age of 65 who have a qualifying disability or other medical condition. Without Medicare, most of these adults would not have medical benefits because of low or no income when they are no longer working as a result of age, disability or a debilitating medical condition.
To receive Medicare benefits, you must apply for coverage. If you aren't sure what to do, you can learn more in our previous article, Should I Use a Medicare Agent?
Once the Social Security Administration (SSA) determines that you qualify for Medicare, you will be assigned a Medicare number by the Centers for Medicare and Medicaid Services (CMS) and a Medicare card will be mailed shortly after that.
SSA will also mail a Medicare award notice, notifying you that you have Medicare coverage and your effective date.
The Importance of Your Medicare Card
Your Medicare card shows that you have Medicare health insurance. Specifically, it shows whether you have Part A (Hospital Insurance), Part B (Medical Insurance) or both, and it shows the date your coverage starts. It also shows your Medicare claim number, which serves as an identification number in the Medicare system.
It is important to carry your card with you when you go for any medical care and when you're away from home. Your doctor, hospital, or other health care providers need to see your card when you need hospital, medical or other health services.
It makes it extremely difficult for healthcare providers to bill Medicare for their services without your card.
Changes Coming To Your Medicare Card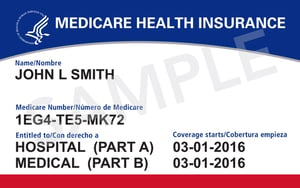 In April of this year, CMS started sending out new cards with a unique, randomly-assigned number called a Medicare Beneficiary Identifier (MBI), to replace the Social Security-based Health Insurance Claim Number (HICN) currently used on the Medicare card.
The purpose of the new cards is to prevent fraud prevention by removing Social Security numbers from Medicare cards to help combat identity theft, and safeguard taxpayer dollars.
There is a congressional deadline for replacing all Medicare cards by April 2019.
"We're taking this step to protect our seniors from fraudulent use of Social Security numbers which can lead to identity theft and illegal use of Medicare benefits," said CMS Administrator Seema Verma. "We want to be sure that Medicare beneficiaries and healthcare providers know about these changes well in advance and have the information they need to make a seamless transition."
What To Do If You Don't Get Your New Card
To make sure that your card is mailed to the correct location, call the Social Security Administration (SSA) to verify or update your current mailing address. Do not feel concerned if you do not receive your card right away, but be sure to call 1-800-MEDICARE (633-4227) if you do not get your new card by April 2019.
Other Advice
Your Medicare card, Social Security card, and other health insurance cards are very important documents. Be sure to keep a photocopy of these important identification and insurance cards, write down any numbers, and keep everything in a safe place so that you have a record for future reference if you lose any of them.
If your card is ever lost, stolen, or damaged, you can get a replacement card from Social Security by calling 800-772-1213. After you receive your new Medicare card, you will also be able to print your own replacement card.
Lastly, do not give your Medicare or Social Security numbers or personal data to strangers. Medicare will never ask for this information over the phone.
If you believe you have been the target of Medicare marketing or billing fraud, contact your local Senior Medicare Patrol.
"Statements on this website as to policies and coverage's and other content provide general information only and we provide no warranty as to their accuracy. Clients should consult with their licensed agent as to how these coverage's pertain to their individual situation. Any hypertext links to other sites or vendors are provided as a convenience only. We have no control over those sites or vendors and cannot, therefore, endorse nor guarantee the accuracy of any information provided by those sites or the services provided by those vendors."