Offering health insurance to your employees can be an important step in growing your small business. Sorting through the numerous plans to determine which is best, however, can be daunting.
But, enlisting the help of a licensed insurance agent can make the process go much smoother.
Here's what makes working with a licensed insurance agent so valuable if you're considering offering health insurance to the employees at your small business.
Their License Provides Protection
Licensed insurance agents are legally obligated to provide services that are in the best interest of the consumer. That means as a small business owner, you benefit from the protections that a licensed professional offers.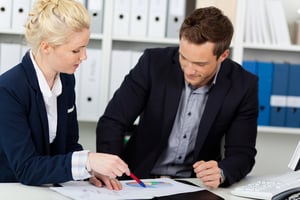 Licensed insurance agents must:
Meet regulatory requirements

Behave ethically

Make certain disclosures to policyholders

Follow any additional state regulations
You can rest assured a licensed insurance agent also is educated through specially-designed courses. In fact, most states require agents to complete a certain number of hours of pre-licensing education.
In California, for example, in order for an agent to sell health insurance, that person must:
Complete a state-approved insurance course

Pass a licensing exam

Be fingerprinted for a background check

Have an application approved by the California Department of Insurance
Agents also must fulfill continuing education requirements to have their licenses renewed. Separate licenses also are required for each type of insurance sold.
Many states, including California, make it easy to verify an agent's status. Check out the California Department of Insurance License Status Inquiry Tool to ensure an agent's license is active.
Bottom Line: Licensed insurance agents must act in your best interest.
Their Services Don't Cost You More
In California, health insurance companies pay brokers a commission for signing up new policy holders. That means for the consumer, there is no direct charge or fee for enlisting the help of a health insurance broker.
Instead, commissions paid to brokers come out of insurance premiums business owners pay each month for themselves and their employees. Most insurance companies will pay brokers a set percentage of the premium, whether it's health insurance or life insurance. Some insurance companies, however, may pay brokers a flat fee instead.
The amount insurance companies pay brokers is controlled, ensuring you, the consumer, doesn't suffer from inflated commissions. In fact, the Affordable Care Act requires insurance companies to spend at least 80 percent of payments received for health insurance premiums on actual health care costs. Known as the 80/20 Rule, this mandate allows the other 20 percent to go toward administrative costs, including broker commissions.
Bottom Line: A plan never costs more when you purchase it from a licensed agent.
Agents Help You Navigate Your Choices
Nothing can be more frustrating than trying to understand health insurance benefits and their costs. Unless you enjoy going through the fine print, a licensed health insurance agent can help you understand the terminology and what it means for your business.
A licensed insurance agent has a professional obligation to help small business owners obtain the appropriate insurance coverage. The agent should go over which coverages are available, and make recommendations based on the number of employees you have and what type of coverage you prefer.
Working with an insurance agent also allows someone who understands your business to match you with the right policies that meet your needs. When you don't work with an agent directly, you lose the benefits of personalized service.
Local agents also know the risks and issues that are specific to your area. This allows you to better understand how the choices in front of you are impacted by the type of business you operate and where you operate your business.
When helping you navigate your options, health insurance agents will take into consideration:
Local climate

Industry in the region

Local medical facilities

Work sites and hazards

Other statistics
Bottom Line: Licensed agents help you understand your insurance options and provide personalized service.
They Advocate For You, Even After Enrollment
Retention is important to health insurance agents, and that benefits you as the consumer. Even after agents have gathered quotes, helped you compare your options and assisted you with purchasing a policy, their work isn't done.
The broker's ongoing relationship with a business owner continues to be important. That's because as a company evolves, insurance needs may change.
Even after you have purchased an insurance plan, a licensed agent continues advocating for you. Whether it's renewing an existing policy or shopping for new options, your agent can help you update your coverage.
When you have questions about benefits or how a claim is processed, a licensed agent also can walk you through the steps and advocate for you with the insurance company.
Bottom Line: It's nice to have someone in your corner.
Learn more about what to look for in an agent/broker by reading our article, 4 Top Traits To Look For In A Small Business Health Insurance Broker.
"Statements on this website as to policies and coverage's and other content provide general information only and we provide no warranty as to their accuracy. Clients should consult with their licensed agent as to how these coverage's pertain to their individual situation. Any hypertext links to other sites or vendors are provided as a convenience only. We have no control over those sites or vendors and cannot, therefore, endorse nor guarantee the accuracy of any information provided by those sites or the services provided by those vendors."