If you're thinking about purchasing a Medigap policy - otherwise known as a Medicare Supplement Insurance policy or Medicare Gap - your choices can become difficult to navigate.
This guide will assist you in better understanding:
How Medicare Gap works

What Medigap covers

What Medigap doesn't cover

The types of available Medigap plans

What else you should know regarding purchasing a Medigap policy
How Medicare Gap Works
Medigap policies help cover some of the costs Original Medicare does not. These types of insurance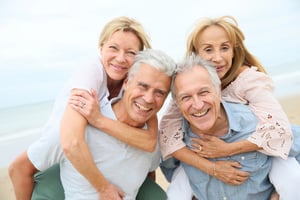 policies can be especially helpful when unexpected medical situations or high healthcare costs occur.
If you are enrolled under an Original Medicare policy, and have a Medigap policy as well, Medicare will pay its share of the Medicare-approved health care costs first. Then, your Medigap policy kicks in, paying the remaining portion that the supplemental policy covers.
It's important to note that a Medigap policy is different than a Medicare Advantage Plan, in which private insurance companies are contracted to provide all of your Part A and Part B benefits. Although private insurance companies also provide Medigap policies, the role of Medicare gap insurance is to supplement the costs of your Original Medicare benefits.
In most states, private insurance companies that sell Medigap policies only sell standardized Medigap policies. That means each policy must offer the same benefits - no matter the insurance company.
What Medicare Gap Covers
Medigap policies are private insurance policies that assist you with paying for costs Original Medicare doesn't cover. Examples of these costs may include:
Coinsurance

Co-payments

Deductibles

Emergency foreign travel expenses
According to the U.S. Government Site for Medicare, to purchase Medigap policies, you must also have Plan A and Part B. Plan A covers your inpatient hospital care, skilled nursing facility, hospice, lab tests, surgery and home healthcare. Part B covers more routine care, such as outpatient care, preventative care and durable medical equipment. More information about Parts A and B can be found in our article, What Is Medicare - Parts A and B?
Any insurance company that offers a Medigap policy must also offer either Plan C or Plan F to those who are not new to Medicare, and either Plan D or Plan G to people who are new to Medicare.
What Medicare Gap Doesn't Cover
In general, Medigap policies do not cover long-term care, such as nursing home care. They also do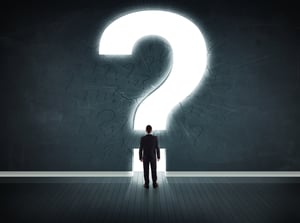 not cover:
Vision or dental care

Hearing aids

Eyeglasses

Private-duty nursing
There's often confusion about what are and aren't Medigap policies. The following are NOT Medigap policies:
Medicare Advantage Plans (Part C)

Medicare Prescription Drug Plans (Part D)

Medicaid

Employer or union plans, including the Federal Employees Health Benefits Program

TRICARE

Veterans' benefits

Long-term care insurance policies

Indian Health Service, Tribal and Urban Indian Health plans

Qualified Health Plans sold in the Health Insurance Marketplace
Types Of Medigap Plans
As you further understand how Medicare Parts A and B work, you'll see how there are gaps in coverage under the Original Medicare. To address these gaps, insurance companies offer Supplement Plans A, B, C, D, F, G, K, L, M, and N.
The chart below shows basic information about the different benefits Medigap policies cover.
Yes = the plan covers 100% of this benefit
No = the policy doesn't cover that benefit
% = the plan covers that percentage of this benefit
N/A = not applicable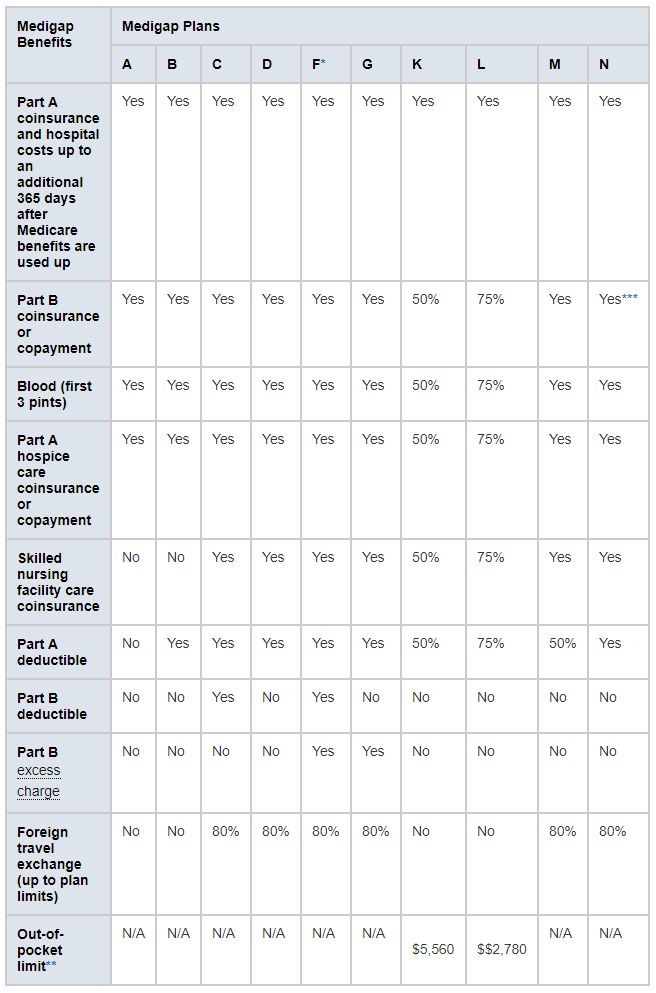 Source: https://www.medicare.gov/supplements-other-insurance/how-to-compare-medigap-policies
* Plan F also offers a high-deductible plan. If you choose this option, this means you must pay for Medicare-covered costs up to the deductible amount of $2,300 before your Medigap plan pays anything.
** After you meet your out-of-pocket yearly limit and your yearly Part B deductible, the Medigap plan pays 100% of covered services for the rest of the calendar year.
*** Plan N pays 100% of the Part B coinsurance, except for a co-payment of up to $20 for some office visits and up to a $50 co-payment for emergency room visits that don't result in inpatient admission.
What Else You Should Know
Now that you have an idea of what Medigap insurance is and what it covers, what else should you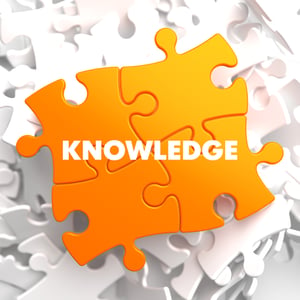 know before deciding which supplemental insurance is best for you?
When You Should Buy
The best time to purchase Medigap policies is during your open enrollment period. This begins the month you turn 65 and enroll in Medicare Part B. There are no restrictions other than your age, even if you experience health problems.
If you wait until after your open enrollment period is over, you may not be able to purchase a Medigap policy, or it may cost you more. During the enrollment period, you can also purchase a Medigap policy by any insurance company licensed in the state.
Whether There Is A Cost
In addition to the premium you pay for Part B, you also must pay a premium for the Medigap policy you choose to the private insurance company. By the way, each policy only covers one person. So, if both you and your spouse want to purchase Medigap coverage, you will need to buy separate policies.
It's also important to note that even though insurance companies must offer the same exact policy, they don't have to charge the same for that policy. As you shop around, make sure you're comparing the same policy from company to company.
Health Problems Don't Deny Coverage
As mentioned above, if you enroll during your designated open enrollment period, an insurance company cannot deny you coverage even if you have health problems. This is true when it is time to renew as well. The insurance company cannot cancel your policy - as long as you stay enrolled and pay your premium.
However, keep in mind that while insurance companies can't deny you the purchase of a policy as long as you follow the correct procedures, they can make you wait for coverage that is related to a pre-existing condition.
A "pre-existing condition waiting period" allows a Medigap insurance company to refuse to cover out-of-pocket costs for anything related to a pre-existing condition for up to 6 months. This is only true, however, if the pre-existing condition was diagnosed within the 6 months leading up to the start date for your coverage. (Remember, though, that Original Medicare will cover the condition. You will be responsible for any costs not covered by Original Medicare, however.)
Help is available
The process of choosing a Medicare plan and any supplemental insurance can be frustrating and overwhelming. Help is available.
A licensed insurance expert can discuss your options with you to determine what makes sense for your situation. An agent not only will advocate for you, but also will guide you through understanding how Medicare works and which Medigap policies best meet your lifestyle and needs.
"Statements on this website as to policies and coverage's and other content provide general information only and we provide no warranty as to their accuracy. Clients should consult with their licensed agent as to how these coverage's pertain to their individual situation. Any hypertext links to other sites or vendors are provided as a convenience only. We have no control over those sites or vendors and cannot, therefore, endorse nor guarantee the accuracy of any information provided by those sites or the services provided by those vendors."